What is Amsterdam's March weather like?
DutchAmsterdam.nl — March in Amsterdam, as in all of the Netherlands, is characterized by erratic weather. Indeed, the old joke that Holland has four seasons a day is more likely to make sense in March than in any other month.
What kind of weather you will encounter is the luck of the draw, but it can range from dull, drab and cold to bright, sunny and 'warm' — for the time of the year, that is.
Normally in March you can expect lots of relatively brief showers in Holland, and temperatures between 1°C and 10°C (33.8°F and 50°F).
Weather Forecast
Updated March 17, 2018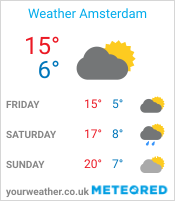 Sunday, March 18, 2018 Sunny intervals for most of the day. No precipitation, but it sure is cold. The afternoon high of 1° Celsius (33.8° Fahrenheit) will feel at least 6 degrees colder due to the wind chill factor.
Monday, March 19, 2018 A sunny and dry day. But the cold snap continues, with a late afternoon high of 4° Celsius (39.2° Fahrenheit) — which feels like 5 degrees colder.
Tuesday, March 20, 2018 Sunny for most of the day. No rain. Afternoon high around 7° Celsius (44.6° Fahrenheit), along with a wind chill factor 3 or 4 degrees lower than that.
Wednesday, March 21, 2018 Cloudy and/or overcast. Light drizzle in the early afternoon. Intermittent, light rain showers in the late afternoon. Early afternoon high temperature: 7° Celsius (44.6° Fahrenheit).
Thursday, March 22, 2018 Cloudy in the early morning, and overcast from mid morning through the rest of the day. Scattered, light rain showers during most of the afternoon. Afternoon high temperature will be a steady 5° Celsius (41° Fahrenheit)
Friday, March 23, 2018 Cloudy, with every now and then some sunshine. No rain during the day, but expect a light rain shower or two in the late evening. The afternoon high temperature of 10° Celsius (50° Fahrenheit) feels about 4 degrees lower in the late afternoon.
Long term forecast
Long term weather forecast, Saturday March 24, 2018 through Saturday March 31, 2018: High probability(70-80%) of a changeable weather pattern with maximum temperatures below those normal for the time of the year.
Average Low and High Temperatures in March
Normal Average Low and High Temperatures in March in Amsterdam
Date
Minimum
Maximum
March 1-10
1.7° Celsius (35.06° Fahrenheit)
7.8° Celsius (46.04° Fahrenheit)
March 11-20
2.8° Celsius (37.04° Fahrenheit)
9.3° Celsius (48.74° Fahrenheit)
March 21-31
3.4° Celsius (38.12° Fahrenheit)
10.6° Celsius (51.08° Fahrenheit)
Things To Do
Even in March, lots of tourists visit Amsterdam. Book museums, excursions and activities ahead of time:
Hotels
Hotel prices are relatively low during this time of the year. Take advantage by booking your hotel as early as possible.
On average it will snow somewhere in Holland on 4 days this month. Hail can be expected on 3 days, and a thundershower on 1 day.
Holland is no stranger to extreme weather. In March 2005 a temperature of -20,7°C (-5°F) was measured in Marknesse, north-east of Amsterdam.
But while night frost is common, particularly in the first half of the month, the average daytime temperature ranges from 4°C (39°F) at the start of the month to 8°C(46°F) at the end.
On average there are 3 days during which the temperature reaches about 15°C (59°F).
This is the month that cafè terraces will include higher numbers of Amsterdam locals rather than just tourists willing to brave the cold for the experience.
Mind you, a Dutch rhyme goes, "Maart roert zijn staart" — 'March wags its tail.' It's a reference to the fact that while Spring starts on March 21, the weather can still be very cold and winter-like even at the end of the month.
On average March has 5 days during which the sun isn't seen at all. That said, the sun is out 33% of the time that it can shine (compared to 33% – 43% April through August).
Amsterdam Weather Facts: March
Temperatures
• Average lows: 1.1° C (34° F)
• Average highs: 8.8° C (48° F)
Sunrise & Sunset
• March 1 – 7:28 a.m. / 6:19 p.m
• March 31 – 7:19 a.m. / 8:12 p.m. (See 'Central European Summer Time')
Rainfall
• Average: 66 mm (2.6 inches) in 72 hours
Tips
Cold days with sunny weather are perfect for taking photos with bright, vivid colors. With the trees still bare you have good views of the gabled canal-side houses. Grey and rainy days are perfect for experimenting with black & white photography.
As the month progresses the days grow longer. At the end of March the sun doesn't set until about 8:15 p.m.
While you will likely need an umbrella, there's no need to pack one. Get yourself a cheap 'throw away' brolly at Etos, HEMA, or a souvenir shop.
On clear, sunny days join Amsterdammers and your fellow tourists by having a drink or two at a café terrace.
What to wear in Amsterdam in March
You'll want to pack warm clothes, including sweaters, long-sleeved sweats, and a winter proof coat or jacket.
Warm socks and/or padded insoles are not a luxury.
Count on the fact that you will want to dress in layers. Cafès, coffeeshops, and eateries tend to be well-heated.
Daylight Saving Time / Summer Time
At 2:00 am CET (Central European Time) / 2:00 am CUT (Coordinated Universal Time1) on the last Sunday in March (2018: March 25), the Netherlands switches to Central European Summer Time (known in the U.S. as Daylight Saving Time) — which means the clock jumps forward by 1 hour.2
Summer time ends at 2:00 am CEST (Central European Summer Time3) on the last Sunday of October (2018: Oct. 28).
In other words:
In Amsterdam on March 25, 2018 at 2:00 am the clocks will move forward to 3:00 am.
That means you lose one hour of sleep (or partying). You get this hour back on the last Sunday of October.
If you fail to adjust your clocks, you will show up for appointments one hour too late.4
Amsterdam Weather Facts + Weather in Other Months
Our weather information is based on long-term averages as reported by various meteorological services, including the Royal Netherlands Meteorological Institute (KNMI).
Original content © Copyright DutchAmsterdam.nl


Do not republish or repost.