Most years, Amsterdam weather in September is nice — very nice, indeed.
Meteorologically, weather professionals consider September 1 to be the start of fall or autumn, but for you and me it starts — in Holland at least — on either the 22nd or 23rd of September. In 2017, autumn officially begins on September 21.
But in the Netherlands September tends to turn into somewhat of an extension of summer.
More often than not September — or at least the first three weeks of the month — has many days of summer-like weather with on average of 145 hours of sunshine for the whole month.
Then again, there may also be some hail- and thunder storms, especially in the coastal areas — and then particularly at night.
Still, whenever people ask us "what is the best time to visit Amsterdam?" we say "September."
Amsterdam Weather September 2018
Updated July 31, 2018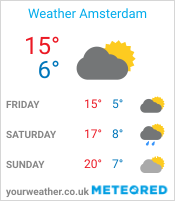 Thursday, September 21, 2017 Mostly cloudy, with some sunny intervals. No rain. Mid afternoon high temperature: 18° Celsius (64.4° Fahrenheit)
As a service to our visitors we update this page with current weather forecasts throughout the month of September, 2018.
If you are reading the page during any other time of the year, the general information posted here will serve as a guide.
Long term forecast
The long term forecast, usually 7 days ahead, will also be updated during the month.
Where this information comes from
Our weather information is based on long-term averages plus current forecasts as reported by various meteorological services, including the Royal Netherlands Meteorological Institute (KNMI).
Normal lows and highs in September
1-10: 11.7/19.7° Celsius (53.06/67.46° Fahrenheit)
11-20: 10.8/18.6° Celsius (51.44/65.48° Fahrenheit)
21-30: 10.2/17.7° Celsius (50.36/63.86° Fahrenheit)
Use your time in Amsterdam wisely. Book skip-the-line tickets, tours, excursions, and more ahead of time.
What to Wear in Amsterdam
Mind you, as always the weather in Amsterdam, as in the rest of Holland, can be rather changeable. That can make it hard to know what to pack.
Make sure you bring light rain gear, but by all means dress in layers. For one thing, the weather can (and often does) switch back and forth between bright and sunny one moment and brief showers (light or heavy) the next.
Usually the climate remains quite mild.
If you happen to dress for summer and get caught in the rain, just do what Amsterdammers do: pop into a brown café or an Irish pub (like O'Reilly's) and wait for the next sunny spell.
By the way, if you plan on bringing an umbrella make sure yours is windproof.
Some day someone (you?) will create a coffee table book with oodles of colorful pictures of discarded umbrellas along the streets, squares and canals of Amsterdam…
Amsterdam Weather in September Facts
Temperatures
• Average lows: 10° C (48° F)
• Average highs: 19° C (66° F)
Sunrise & Sunset
• September 1 – 6:51 a.m. / 20:29 p.m
• September 30 – 7:39 a.m. / 19:21 p.m.
Rainfall
• Average: 83 mm (3.2 inches)
More Amsterdam Weather
More details about the climate in Amsterdam, including current temperatures and precipitation charts.
Original content © Copyright DutchAmsterdam.nl


Do not republish or repost.