November weather in Amsterdam is often turbulent
DutchAmsterdam.nl — The weather in Amsterdam during the month of November is best characterized by the word 'turbulent.'

Updated during November 2018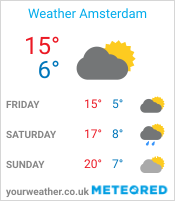 As a service to our visitors we update this page with current weather forecasts throughout the month of November.
If you are reading the page during any other time of the year, the general information posted here will serve as a guide.
Normal low and high temperatures in November
1-10: 5.6 – 11.2° Celsius (42.08 – 52.16° Fahrenheit)
11-20: 4.1 – 9.3° Celsius (39.38 – 48.74° Fahrenheit)
21-30: 3 – 7.9° Celsius (37.4 – 46.22° Fahrenheit)
Book your Amsterdam museums, excursions and activities ahead of time:
The Dutch often refer to November as wind– or dolmaand — windy or crazy month.
Indeed, with winter on its way there are many days when a cold, drizzly rain is driven through the streets by gusty winds of up to 50 miles per hour.
Then again, as always is the case with the weather in the Netherlands, one could experience a pleasant, sunlit day with temperatures of 20° or more — or, at the other extreme, a -10° night with severe frost.
What to wear in Amsterdam in November
November normally is one of the wettest months in Holland, so a raincoat is must. An umbrella may come in handy, but only on those days when it's not too windy — unless you have one of those windproof umbrellas.


You'll want to dress in something warm enough to protect you from the cold, keeping in mind that the wind and the rain — anything from a steady drizzle to a steady downpour — can make temperatures feel lower than they really are.
Layer your clothes though. Quite often the weather will be milder than you'd guess from looking out of your hotel room window.
Also, when you pop into a warm café or restaurant you want to be able to take something off.
Amsterdam Weather Facts: November
Temperatures
• Average lows: 27° C (2.7° F)
• Average highs: 48° C (9° F)
Sunrise & Sunset
• November 1 – 7:37 a.m. / 5:12 p.m.
• November 30 – 8:26 a.m. / 4:32 p.m.
Rainfall
• Average 79mm (3.1 inches) in 72 hours
— — DutchAmsterdam.nl
While Amsterdam is a great city for walking, don't be foolhardy about it. If there's too much rain or you're getting too cold, make a beeline for a museum, theater, or cinema. Scout a few out before you leave the hotel so you know where they are and what buses or trams can take you there.
Inclement weather also provides you with a good excuse to spend a few hours at one of Amsterdam's cozy brown cafes.
See Also
Original content © Copyright DutchAmsterdam.nl


Do not republish or repost.