December weather in Amsterdam: usually cold; usually no snow
If you see any sunshine in Amsterdam during December, take a picture.
In this darkest month of the year the sun shows up only 40-45 hours, and you can expect at least half of the days to pass without any sunshine to speak of.1
In Holland December is a winter month, after all. The shortest day of the year — in terms of the amount of daylight — falls on December 21st, and that's when the winter season starts.
Tourists from countries closer to the equator are often amazed at how short Amsterdam days really are in December, with sunrise on average at about 8:30 am, and sunset around 4:30 pm.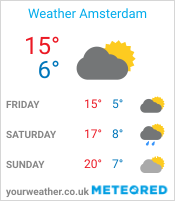 For those Amsterdammers who have a regular 9-5 job it's no fun going to and from work in the dark, let alone when there's rain or frost.
Mind you, this is not the rainiest month, nor the coldest. But Amsterdam weather in December includes a fair amount of precipitation — usually in the form of rain or wet snow.
Weather Forecast
Updated during the month of December
Keep in mind that the feels-like temperature (windchill factor) tends to be 3-5 degrees lower than the values listed.
As a service to our visitors we update this page with current weather forecasts throughout the month of December.
If you are reading the page during any other time of the year, the general information posted here will serve as a guide.
Sometimes, just toward the end of the month we already move over to the next one. Like so.
Our weather information is based on long-term averages as reported by various meteorological services, including the Royal Netherlands Meteorological Institute (KNMI).
In December it gets dark early in Amsterdam, with sunset occurring around 4:30 pm! Perfect for the Amsterdam Light Festival.
Book your Amsterdam museums, excursions and activities ahead of time:
Normal Low and High Temperatures in December
1-10: 2 – 6.8° Celsius (35.6 – 44.24° Fahrenheit)
11-20: 1.1 – 5.9° Celsius (33.98 – 42.62° Fahrenheit)
21-30: 1.1 – 5.5° Celsius (33.98 – 41.9° Fahrenheit)
Don't take previous years as a guide
As always, keep in mind that the weather in Holland is notoriously unpredictable. Other than the general observations on this page, what happens in one year cannot be taken as a template for the next.
For instance:
December 2015 — with an average temperature of 9.6° Celsius (49.28° Fahrenheit) — was an unusually warm month. How unusual? Well, according to the Royal Netherlands Meteorological Institute (KNMI), it was the mildest December since the Dutch started keeping track of the weather, in 1706.
December 2016 was unusual as well, with an average temperature of 4.7° Celsius (40.46° Fahrenheit). It was mild, very dry, and very sunny for the time of year. 72 hours of sun during the month, versus the long-term average of 49 hours. And just 22 mm of precipitation vs the usual 80 mm.
December 2017 is not even half gone at the time I'm writing this, but it will long be remembered for the December 10-11 snow storms that, on Monday, brought the city — and most of the country — to a standstill. All in all Amsterdam saw 20 centimeter (7.87 inch) of snow. Schiphol Airport was forced to cancel 600 flights — 50% of a normal day's take-offs and landings. Train traffic between the airport, and in and out of Central Station, came to a standstill. Trams ran on a reduced schedule with lots of delays, while buses were grounded.
Snow: White Christmas in Amsterdam?
Measured over the whole country, on average some form of weather drops from the sky on 22 days, for a total of 72mm (2.8 inches). Still speaking in averages, 3 of those days will see hail, 5 wet snow and 6-10 days fog.
It may snow from time to time, but seldom a lot. And a white Christmas in Amsterdam is a rare occurrence.
That said, if you've followed our weather write-ups for a while, you know we always point out how unpredictable Dutch weather is.
When snow does fall — the good stuff, not the wet slurry — Amsterdam looks like this:
And in case you're wondering: the end of the month is 1 to 1.5 degrees colder than the beginning. We're gearing up for January.
What to wear in Amsterdam in December
December can be bone-chillingly cold, especially when it's windy.
You'll definitely want to bring warm clothes, along with a winter-proof, waterproof coat or jacket.
A windproof hat or cap — especially one that keeps the ears warm — will be very welcome. You'll also want a scarf and gloves.
Bring sweaters and warm socks. Long underwear may come in handy as well.
That said, make sure you dress in layers. Pubs, restaurants and private homes can be quite warm.
Amsterdam weather facts: December
Temperatures
• Average lows: 0.5° C (33° F)
• Average highs: 5.5° C (42° F)
Sunrise & Sunset
• December 1 – 8:27 a.m. / 4:32 p.m.
• December 31 – 8:51 a.m. / 4:37 p.m.
Rainfall
• Average 72mm (2.8 inches) in 72 hours
Amsterdam Current Weather & Month-by-Month
More about the weather in Amsterdam, including current temperatures, expected precipitation, 4-day forecast and average rainfall figures. Also: the weather from month-to-month.
Disclaimer
This weather information is curated by Amsterdammer Anton Hein. He is not a meteorologist, and since he works from home he usually doesn't have to brave the elements if he chooses not to do so. He reminds you that the only thing truly predictable about Dutch weather is that it is very changeable, and notoriously hard to predict.
Notes:
When the sun does shine, owing to the crispy temperatures it is often combined with deep-blue skies. That makes for great photos. Added benefit: with most trees bare the architectural features of the great canal houses are easier to see. ↩
Original content © Copyright DutchAmsterdam.nl


Do not republish or repost.