DutchAmsterdam.nl — February is the coldest month throughout the Netherlands, and the coldest time of the year to spend in Amsterdam.
The good news is that February is one of the driest months, second only to April which normally sees the least precipitation.
Thus far the winter of 2017 has been rather mild, by the way. We did, finally, have some snow on the ground in the weekend of Feb 12-13.
Update, February 24, 2017: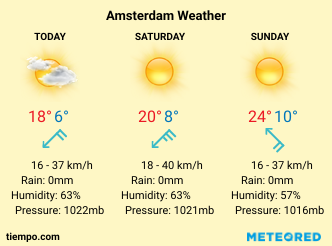 Friday (24) Partially sunny. Some scattered, light rain or drizzle showers are passing across the country, but it looks like Amsterdam won't see much of it. Count on about 6° Celsius (42.8° Fahrenheit) for most of the day, with an early afternoon high temperature of 7° Celsius (44.6° Fahrenheit). Subject a few degrees to arrive at the wind chill factor.
Saturday (25) Overcast all day, with light rain showers during — depending on which meteorological service you believe — the entire day, the late morning, or the late morning through the late afternoon. All agree that today's best temperature — 9° Celsius (48.2° Fahrenheit) — can be enjoyed in the late afternoon.
Sunday (26) Quite cloudy or overcast all day, with some light rain in the early morning, and a mid-afternoon high temperature of 8° Celsius (46.4° Fahrenheit).
Monday (27) Cloudy or partly cloudy. As much as 13° Celsius (55.4° Fahrenheit) in the late afternoon. Intermittent, light rain showers throughout the evening.
Tuesday (28) Cloudy, with scattered light rain showers from early morning through late afternoon. 9° Celsius (48.2° Fahrenheit) in the early afternoon.
Wednesday (March 1) Cloudy all day, with steady light rain showers from early morning through late afternoon. Today's high: 7° Celsius (44.6° Fahrenheit) in the early afternoon.
Long-term forecast: Thursday March 2 through Thursday March 9: Decreasing chance of precipitation, and possibly temperatures above those normal for this time of the year.
Normal Low and High Temperatures in February:
1-10: Min. 1° Celsius (33.8° Fahrenheit); Max. 6° Celsius (42.8° Fahrenheit)
11-20: Min. -0.2° Celsius (31.64° Fahrenheit); Max. 5.4° Celsius (41.72° Fahrenheit)
21-28: Min 0.7° Celsius (33.26° Fahrenheit); Max. 6.5° Celsius (43.7° Fahrenheit)
Things To Do
Seen the weather forecast? Now you'll understand why we've got so many museums (and pubs)
Normally in February the average day-time temperature in Amsterdam is 2.4º Celsius (36.32º Fahrenheit) – but wind and fog (and yes, storm) can make it feel much colder than that.
The nights are very cold, with temperatures usually below freezing.
Amsterdam weather in February isn't quite the same from year to year, though.
In 2012 during the second week of February we had a deep-freeze the likes of which we had not experienced in about ten years. People were ice skating on the canals of Amsterdam (videos). (And take a look at wintery Amsterdam as seen from the air).
February of 2013 brought no such skating opportunities.
There's a lot to see and do in Amsterdam any time of the year.
That's why tourists visit all year round.
The earlier you look for a hotel, the wider the choice. [View Amsterdam hotels on a map]
The winter of early 2014 was one of the mildest since the Dutch started keeping a record of the weather — in 1706. Mind you, it was still cold, but not nearly as cold as normal. And no, no ice skating on the canals whatsoever.
Anyway, on average in February you can expect 78 hours of sunshine in Amsterdam, compared to 51 in January and 42 in December. But don't make the mistake of thinking sunny days are warm. They're sunny and cold.
What to wear in Amsterdam in February
When you visit Amsterdam during the month of February bring warm clothes, including long-sleeved sweaters, sweats, and a winter proof coat or jacket.
Thermal underwear is not a luxury. Neither are leggings, warm socks and padded insoles.
Come prepared to dress in layers, because coffee houses, coffeeshops, restaurants, café's and homes will be cozily warm.
Tips
If you prefer to travel light you can always pick up a pair of earmuffs, along with knitted winter gear (hats, scarfs, mittens) at downtown souvenir shops. For inexpensive basic warm undies shop at any HEMA or Zeeman department store. You'll find a HEMA right inside Amsterdam Central Station
The trees are still bare, allowing a much better view of the gabled canal-side houses than you get during spring and summer. Take advantage of a sunny day for a canal tour (See the photography/filming tip there). If you prefer to walk along the canals, walk on the shadow side so you can take photos of the sunny side.
When you explore the city, steer clear of fast-food outlets, and instead warm up at a café or two. Here's how the locals do it. And, for the love of coffee, stay away from Starbucks.
Amsterdam Weather Facts: February
Temperatures
• Average lows: -1° C (30.2° F)
• Average highs: 5.5° C (42° F)
Sunrise & Sunset
• February 1 – 8:22 a.m. / 5:27 p.m.
• February 28 – 7:31 a.m. / 6:17 p.m.
Rainfall
• Average 44mm (1.7 inches) in 72 hours
---
This weather information is provided by Amsterdam native
Anton Hein
, who is not a meteorologist, and who can not be blamed if your weather experience in Amsterdam is different from what he led you to believe.
Suffice it to say that he knows when to stay indoors with a freshly brewed cup of coffee, some jazz and soul on the radio, and a pot of chili on the stove.
Visit Anton Hein dot com for photos of Amsterdam.
Original content © Copyright DutchAmsterdam.nl


Do not republish or repost.