What is Amsterdam's April weather like?
April in Amsterdam brings good news and bad news when it comes to the weather.
The good news: this is normally the driest month of the year. It does rain, but the spring showers are usually short-lived and not too wet.
Oh… and we've got millions — MILLIONS — of tulips and other flowers.
The bad news: April is a month with sharp contrasts.
April doet wat hij wil, the Dutch say. It means that 'April does whatever it wishes to do,' which can include anything from abundant sunshine and almost summertime temperatures to, well, snow on the ground.
Erratic weather, from day to day and sometimes hour to hour.
Weather Forecast for April 2019
Updated April 26, 2020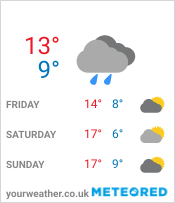 As a service to our readers we update this page with weather forecasts throughout the month of April, 2020.
Monday, April 27, 2020 — King's Day Sunny intervals, for the most part with about 80% sunshine. Cloudier (about 60% clouds) in mid afternoon. No rain. Mid afternoon high around 18° Celsius (64.4° Fahrenheit). Too bad we can't enjoy the good weather, since even during this day of celebration we're expected to stay home due to the coronavirus.
Tuesday, April 28, 2020 Overcast all day, with light rain from late morning till after midnight. Daytime high temperature 12° Celsius (53.6° Fahrenheit).
Wednesday, April 29, 2020 Overcast until mid afternoon, when sunny spells (50-70% sunshine) take over until sunset at 20:57 (8:57 p.m.). At the same time, light rain showers from mid afternoon until late evening. Later afternoon/early evening high 14° Celsius (57.2° Fahrenheit).
Thursday, April 30, 2020 Overcast all day, with light rain from early morning until mid evening. Afternoon high temperature 13° Celsius (55.4° Fahrenheit).
Long Term Forecast
Tuesday, April 28, 2020 through Monday, May 4, 2020: Initially high chance of fairly cool weather with about 50% chance of rain, then increasingly uncertainty in the temperature forecast, along with a daily 30-40% chance of precipitation.
Check out what May weather is like in Amsterdam.
Where our weather information comes from
Our weather information is based on long-term averages as reported by various meteorological services, including the Royal Netherlands Meteorological Institute (KNMI).
On to May weather.
Average Low and High Temperatures in April
Normal Average Low and High Temperatures in April in Amsterdam
Date
Minimum
Maximum
April 1-10
3.8° Celsius (38.84° Fahrenheit)
11.6° Celsius (52.88° Fahrenheit)
April 11-20
4.2° Celsius (39.56° Fahrenheit)
12.6° Celsius (54.68° Fahrenheit)
April 21-30
6° Celsius (42.8° Fahrenheit)
15.2° Celsius (59.36° Fahrenheit)
Things To Do
During the month of April lots of tourists visit Amsterdam. Book skip-the-line tickets, museums, excursions and activities ahead of time:
Hotels
Due to high demand, hotel prices tend to be higher during the months of April and May. For the best rates (and to make sure you can even get a room) Book your hotel as early as possible.
Queen's Day King's Day Weather
But what everyone wants to know this time of year is: What will the weather be like on King's Day (formerly: Queen's Day)?
We're talking about the world's biggest street party — when millions of Dutch people (wearing something orange, of course) take to the streets and canals to celebrate the King's birthday.
King's Day will take place on April 27, the King's birthday.
We've often had good weather. But at times there have been grey skies as well — which tends to make for a somewhat less abundant party atmosphere. ('Somewhat less' is relevant. You haven't seen a party this big anywhere else).
See Holland's Tulip & Flower Fields and Gardens
If you like tulips and other flowers, April is the ideal month in which to visit Amsterdam.
Excursions to the nearby tulip and bulb fields, as well as the world-renowned Keukenhof (known as the Garden of Europe, one of the world's largest flower gardens) are popular with tourists and locals alike.
Many people combine their visit to the Keukenhof with a tour of the flower fields and/or an excursion to the famous windmills at Zaansche Schans.
When do the tulips bloom?
Tulips bloom from the end of March to the middle of May. Normally the best time to visit the tulip fields is during the last 2 weeks of April and the first week of May, when the flowers are at their peak.
However, around the 30th of April most of the flowers in the fields are 'topped.' That means the flowers are cut off in order to stimulate the bulbs to grow. There will be some flowers left in the fields — just not as many.
The exception is Keukenhof.
In 2017, Keukenhof is open From March 23 through May 21. Plan your visit as soon as possible.
Sunshine!
Note that on average in April the sun shines on Amsterdam 177 hours.
That works out to 43 per cent of the time that it could possible shine — a marked improvement over the 33 per cent we normally get in March.
Amsterdam Weather Facts: April
Temperatures
• Average lows: 3.3° C (38° F)
• Average highs: 12.8° C (55° F)
Sunrise & Sunset
• April 1 – 7:16 a.m. / 8:13 p.m
• April 30 – 6:13 a.m. / 9:02 p.m.
Rainfall
• Average: 47 mm (1.8 inches) in 72 hours
What to wear in Amsterdam in April
You'll want to come prepared for bright, sunny weather and warm spring-time temperatures. Or bright, sunny weather and low temperatures. Or the type of storms that make you think it's fall.
In other words, try and determine what kind of weather the day brings and dress accordingly. Dress in layers so you can add or subtract something if and when the weather changes.
A light jacket is a good idea.
You can pick up inexpensive umbrellas just about anywhere, but if you do encounter a spot of rain simply make a beeline into the nearest café — just like the Dutch do.
Tips
On warm, sunny days Amsterdammers come out in droves in order to shop, relax in a park, or people watch at outdoor cafés. It's a good idea to join them. You'll hear Dutch people say something like, "Zullen we een terrasje pakken?" which means "Shall we sit on a terrace?" (literally, 'shall we take a terrace'). By all means, do the same. Here's how to order a beer in Amsterdam.
Take advantage of the lengthening days — courtesy of nature and helped a bit by the 'Summer Time' (Daylight Saving Time) that started the last Sunday of March. At the beginning of April sunset is around 8pm, and by the end of the month it stays light out till about 9pm.
See also

General information about the weather in Amsterdam, including month-by-month details
Hello! Our original content is protected by © Copyright DutchAmsterdam .nl


Do not republish or repost.
GetYourGuide is our Trusted Ticket Partner
Why stand in line during your vacation? Beat the crowds by booking
Tours, Skip the Line Tickets, Museums, Excursions and Activities
online.
Your GetYourGuide Ticket Advantage:
Authorized Ticket Seller
Verified legal tour operators
Printed or Mobile Voucher Accepted
Skip-the-Line (if available)
Instant Confirmation
Easy Cancellation