Estimated reading time: 3 minutes
August: Sunniest of the three summer months
On average, August is the sunniest of the three summer months — though there really isn't much difference in the total hours of sunshine during June, July, and August.
Yes, it can rain. But showers tend to be brief, scattered, and/or intermittent.
As always in Amsterdam and the rest of the Netherlands, it's hard to predict what the weather will be like. Long-range weather forecasts are something of a standing joke. Come to think of it, so are short-range forecasts.
That said, more often than not in Amsterdam August is warm, dry, and sunny. But there have also been years in which the month was cool, wet, and somber.
In fact, there are years in which travel agents offering last minute trips to the sun do a brisk business.
— See the Weather Forecast below this ad —
Amsterdam Weather Forecast August 2023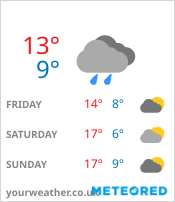 Will be updated in August 2023
We update this weather forecast throughout the month of August.

At any other time during the year, the general information on this page will help you plan your trip to Amsterdam.
What is a 'Kwakkelzomer'?
What does the Dutch word 'Kwakkelzomer' mean?
A kwakkelzomer is a summer with few and unsteady periods of dry, warm weather and often rain showers. In other words: changeable, frequently inclement weather conditions with too little typical summer weather.
What to wear in Amsterdam in August?
You won't need warm clothes, but a light sweat jacket may come in handy when it's a bit too windy.

On warm days short sleeves and shorts or a skirt will do just fine.

Rain showers tend to be both light and brief. Dutch weather forecasters say they occur "hier en daar" (here and there). That's their way of saying it will rain intermittently, as the wind blows the rain clouds across Amsterdam.

However, normally even rainy days are quite mild.

It can also be muggy at times.

Speaking of which: bring your swimwear. Fully 24% of Amsterdam consists of water. There are swimming pools, (semi-) approved natural swimming locations, and some great wild swimming spots. See: Where to Swim in Amsterdam.
Amsterdam August tips: mosquitoes, umbrellas
The humidity during the months of July and August turns Amsterdam into an ideal breeding ground for mosquitoes. Pharmacies and some drug stores carry a mosquito repellent by the unlikely name of 'Muggenmelk' (literally, mosquito milk). Those whose blood is favored by the tiny pests swear that Muggenmelk provides the best defense.

You won't need an umbrella. Should it rain for a bit, just pop into an eatery or a brown café where you can wait out the shower.

If it looks like it's going to rain for a few hours, make your way to one of Amsterdam's many museums.
Amsterdam Weather Facts: August
Temperatures
• Average lows: 12° C (54° F)
• Average highs: 22° C (72° F)
Sunrise & Sunset
• August 1 – 6:00 a.m. / 9:33 p.m
• August 31 – 6:49 a.m. / 8:32 p.m.
Rainfall
• Average: 65 mm (2.5 inches) in 72 hours
More Amsterdam Weather
Amsterdam weather in other months
Hello! Our original content is protected by © Copyright DutchAmsterdam .nl
Do not republish or repost.
GetYourGuide is our Trusted Ticket Partner
Why stand in line during your vacation? Beat the crowds by booking Amsterdam
Tours, Skip the Line Tickets, Museums, Excursions and Activities
online.
Your GetYourGuide Ticket Advantage:
Authorized Ticket Seller
Verified legal tour operators
Printed or Mobile Voucher Accepted
Skip-the-Line (if available)
Instant Confirmation
Easy Cancellation