July generally is the warmest month of the year in Amsterdam, with temperatures ranging between nighttime lows of 13° C (54° F) and midday highs around 22° C (72° F).
Mind you, historically July weather has always been precarious at best (as is Dutch weather in general, no matter what month you pick).
You never quite know what you're going to encounter — especially nowadays, what with global warming and other allegedly non-existent meteorological phenomena.
Amsterdam Weather Forecast, July 2020
Updated July 1, 2020
: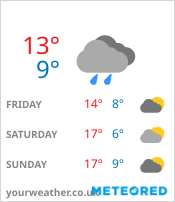 As a service to our readers we update this page with weather forecasts throughout the month of July.
During the rest of the year see the general information on this page.
Thursday, July 2, 2020 Early morning scattered light rain showers (30% chance). Mostly cloudy but dry during the late morning. Sunny intervals (about 60-70% sunshine) from around noon until sundown. Afternoon high around 19° Celsius (66.2° Fahrenheit).
Friday, July 3, 2020 Sunny intervals (about 50% sunshine) most of the day. Sunniest in the late afternoon and early evening. No rain. Afternoon high temperature 20° Celsius (68° Fahrenheit).
Saturday, July 4, 2020 Overcast all day. Light rain showers from late morning through the rest of the day, all night, and almost all Sunday. (We need that rain, by the way. Weather in the Netherlands has been way too dry these past few years). Afternoon high 18° Celsius (64.4° Fahrenheit).
Sunday, July 5, 2020 The light rain that started yesterday morning continued through the night and will be with us until about mid evening. Mostly overcast skies, but still an afternoon high temperature of 20° Celsius (68° Fahrenheit).
Monday, July 6, 2020 Sunny intervals, probably no rain, and an afternoon high around 16° Celsius (60.8° Fahrenheit).
Tuesday, July 7, 2020 Sunny intervals all day, starting with about 50% sunshine in the early morning. The amount of sunshine increases as the day progresses, topped by an abundantly sunny evening. No rain. Sunset is at 22:04 (that's 10:04 PM). Afternoon high around 17° Celsius (62.6° Fahrenheit).
Long Term Forecast
Thursday July 8, 2020 through Thursday July 15, 2020. Gradually decreasing daily probability of rain (to 40-50%). But also a fairly high probability (60%) of maximum temperatures below the long-term average.
Check our August weather
Where our weather information comes from
Our weather information is based on long-term averages as reported by various meteorological services, including the Koninklijk Nederlands Meteorologisch Instituut (KNMI) — the Royal Netherlands Meteorological Institute (KNMI).
Amsterdam is extremely crowded during June, July and August. Get tickets for museums, tours, public transport ahead of time.
Normal lows and highs in July
1-10: 13/21.6° Celsius (55.4/70.88° Fahrenheit)
11-20: 13.3/21.8° Celsius (55.94/71.24° Fahrenheit)
21-31: 13.8/22.6° Celsius (56.84/72.68° Fahrenheit)
We update this Amsterdam Weather in July information throughout the month.
Good news: July used to be the third wettest month of the year, but lately it has ranked somewhere in the middle.
If you do run into some rain it's usually not enough to use an umbrella for.
Most showers are brief, and sometimes there's little more than a drizzle.
Just pop into a store or a café to wait it out.
And if it looks like a day with the sort of weather you dislike, plan to visit a museum or two.
By the way, sunrise is before 6:00 am and sunset is somewhere around 9:30 pm.
When the weather is sunny, do like the Amsterdammers do and enjoy some relaxing time at one of the many outdoor cafés.
What to wear in Amsterdam in July
Count on warm weather. Even when it rains it never quite gets cold.
There is no need to carry around an umbrella. Should it rain, simply duck into one of the many cafés or coffee houses.
Amsterdam Climate
See also: General information about the weather in Amsterdam
Hello! Our original content is protected by © Copyright DutchAmsterdam .nl


Do not republish or repost.
GetYourGuide is our Trusted Ticket Partner
Why stand in line during your vacation? Beat the crowds by booking
Tours, Skip the Line Tickets, Museums, Excursions and Activities
online.
Your GetYourGuide Ticket Advantage:
Authorized Ticket Seller
Verified legal tour operators
Printed or Mobile Voucher Accepted
Skip-the-Line (if available)
Instant Confirmation
Easy Cancellation