Amsterdam Weather Current Month
Our month by month weather reports are frequently updated during each current month.
They include today's weather, along with a 4-7 day Amsterdam weather forecast. Also: suggestions on what to pack.
On this page you'll find the Current Temperature in both Celsius and Fahrenheit, the Rain/Precipitation Radar, a brief explanation about the weather in Amsterdam, and a chart showing the Average Temperatures and Rainfall throughout the year.
Current Weather in Amsterdam, Netherlands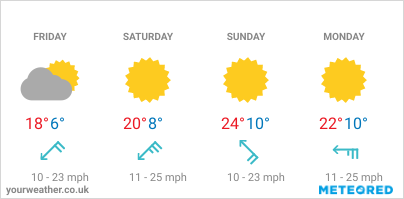 Metropolitan Amsterdam Rain Radar
This graphic shows precipitation — rain, thundershowers (red), or whatever — expected over the next three hours.
Good news: The joke that says Amsterdam has four seasons a day is not quite true. Most of the time, at least.
Amsterdam's climate is mild, but changeable. If you happen to live in Seattle, Ireland or Southern England, you'll feel right at home. It can be foggy in the morning, sunny by noon, hot in the afternoon, and cooler at night. Blue, sunny skies can be interspersed by occasional light showers, and hot spells tend to be broken by thundershowers.
During the summer, especially, the Netherlands can experience weather extremes: anything from extended heatwaves to days of gray skies and seemingly continuous rain showers. Mostly though, summers are pleasantly warm — T-shirts and short sleeves weather. Once the sun goes down you may want to have a light jacket (keep in mind that from mid-spring to mid-fall it stays light outside until 10:00 or 10:30 PM).
The coldest weather usually occurs in the months from December through March. However, winters tend to be mild and nowadays there is far less snow than there used to be several decades back.
Note that in recent years Holland — like many other countries — has seen the effects of global warming in the form of more and more heat-waves.
If you plan to be in Amsterdam during the spring and fall, by all means bring a small umbrella, or plan to buy one here. Make it a sturdy one, though, for in Holland rain is often accompanied by wind strong enough to fold light umbrellas into shapes not anticipated by the manufacturer. (Hint: should it rain, do like the Dutch do. Take shelter in a cozy café. Most showers don't last longer than a few pints).
Average Temperatures in Amsterdam
Our month-by-month weather forecasts include long-term average high and low temperatures.
KNMI
Our weather information is based on long-term averages as reported by various meteorological services, including the Koninklijk Nederlands Meteorologisch Instituut (KNMI) — the Royal Netherlands Meteorological Institute (KNMI).
The Netherlands was one of the first countries to keep track of the weather. On December 19, 1705, water engineer and cartographer Nicolaus Samuelis Cruquius (1678-1754) began recording the weather in Delft three times a day with readings of temperature, pressure, humidity and precipitation.
KNMI notes that, "Cruquius was convinced of the usefulness of meteorological observations to determine how our country could protect itself against the threat of violence from the sea, storm, and rain. In 1725 he asked the former government, the States of Holland (Staten van Holland), for financial support. His application was rejected because he was not taken seriously.
Over a century later, meteorologist Buys Ballot (10 oktober 1817- 3 februari 1890) made a similar request. In response, the KNMI was established." That was in 1854.
The KNMI itself started keeping weather statistics in 1901.
Short Skirts Weather?
Trust the Dutch to come up with something to brighten up the weather forecast: commercial weather information service MeteoVista includes a slightly offbeat forecast that lets women know whether or not a particular day is suitable for wearing a short skirt:
Rokjesdag
And then there's a phenomenon known as 'Rokjesdag' (literally, 'short skirts day') — the first day of the year that women decide, en masse, that the weather is good enough to venture outside in short skirts.
Weather, Month by Month
Hello! Our original content is protected by © Copyright DutchAmsterdam .nl
Do not republish or repost.
GetYourGuide is our Trusted Ticket Partner
Why stand in line during your vacation? Beat the crowds by booking Amsterdam
Tours, Skip the Line Tickets, Museums, Excursions and Activities
online.
Your GetYourGuide Ticket Advantage:
Authorized Ticket Seller
Verified legal tour operators
Printed or Mobile Voucher Accepted
Skip-the-Line (if available)
Instant Confirmation
Easy Cancellation