Estimated reading time: 6 minutes
October Weather in Amsterdam: 'It Can Freeze, Or It Can Thaw'
October Brings a Fair Share of Gorgeous Days
In ancient times the month of October was referred to in Holland as aarselmaand — 'hesitation month,' because the weather hesitates between fall and winter.
"Het kan vriezen of het kan dooien," (literally, "It can freeze or it can thaw") the Dutch say — in an expression that means the outcome is uncertain: anything is possible.
That is quite true for the weather in Amsterdam during the month of October. The weather in Holland in notorious for being consistently inconsistent at any time during the year, and October is no exception. The day can start out sunny, only to quickly give way to showers and occasional gusty storms.
You will want to have a 1-7 days Public Transport Ticket — or, better yet, an I amsterdam City Card. The latter gives you public transport plus access to museums and other attractions.
That said, in October has a fair share of gorgeous days — sunny, blue skies, and mild temperatures for this time of the year. Often it is even warm enough to enjoy an outdoor café.
In Amsterdam we've learned to live with this kind of weather: bright and sunny one moment; cloudy and rain showers the next. It's not for nothing we've got so many cafés to pop in to.
And no, it won't actually 'freeze' in October.
— See the Weather Forecast below this ad —
Your time in Amsterdam is precious. Don't waste it standing in line. It's a good idea to buy tickets for museums, tours, public transport ahead of time.
Amsterdam Weather Forecast, October 2023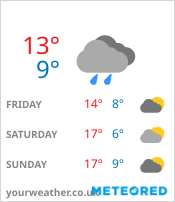 Updated October 31, 2023
As a service to our readers we update this page with weather forecasts throughout the month of October.

During the rest of the year the general information on this page will tell you what you need to know about the city's climate in October.

The short version: On average you can expect lots of grey days, some sunny days, some rain, and an occasional storm.
This week: Sunrise: 7:33 (7:33 am) — Sunset: 17:30 (5:30 pm)
Tuesday, October 31, 2023 — Rain all day. Scattered light rain showers from before daybreak until late afternoon. Then persistant rain for most of the evening. Yet from about mid-morning through mid-afternoon we'll also see some sunny intervals, with anywhere between 15 to ±50% sunshine. Afternoon high 13° C | 55.4° F.
Long Range Forecast
See our November weather forecast
Normal High and Low Temperatures in October
1-10: 9.2/16° Celsius (48.66/60.8° Fahrenheit)
11-20: 7.4/14° Celsius (45.32/58.1° Fahrenheit)
21-31: 6.6/12° Celsius (43.88/55.04° Fahrenheit)
Amsterdam October weather: average temperatures
On average you can expect lots of grey days, some sunny days, and some rain. Guidebooks and websites can not seem to agree whether or not October is the wettest month, but you'll want to use an umbrella on a regular basis.

The average high temperature is 13° Celsius (55.4° Fahrenheit), and the average night-time low is 4° Celsius (39.2° Fahrenheit) — while the average median temperature is 10.4° (50.72° Fahrenheit).
But note that on average the temperatures at the end of October are four degrees lower than at the beginning of the month. September is on average 4 degrees warmer than October, while November is on average four degrees colder.
The weather in the coastal regions of the country tends to be warmer and wetter than the weather further inland. Overall, October has some 60 hours of rain, and an average of 104 hours of sunshine.
Amsterdam Daylight Saving Time Ends October 31, 2022
At the start of October the sun rises at about 7:45 am, and sets at about 7:20 pm. At the end of the month, when the country has reverted to wintertime, sunrise starts at about 7:35 am and sunset occurs at about 5.15 pm.
In 2022 daylight saving time in the Netherlands started on Sunday, March 27. Daylight Saving Time ends at 3:00 a.m. on Sunday October 29, 2023.
That means you will get an extra hour of sleep (or, as the case may be, party time) since at 3:00 am the clock will be turned back to 2:00 am, Central European Time.
Remember: spring forward, fall back. Currently in Europe there is quite a bit of discussion about the possibility of ending the Daylight Saving Time switch since it no longer serves a clear purpose. Our guess: it will end, but not any time soon.
What to wear in Amsterdam in October
Humid air and strong wind can make the weather in Amsterdam feel colder than it actually is.
You'll want pack a wind- and waterproof jacket, and it is a good idea to dress in layers, including a sweater or sweatshirt and jacket. Stores, pubs, cafes and restaurants as well as cinemas and theaters will be warm, so you'll need to be able to take something off.
Wear water-tight shoes instead of sandals or flip-flops.
Inexpensive umbrellas are for sale all over downtown Amsterdam so you don't need to worry about bringing one. You get what you pay for, but generally the wind is not yet strong enough to trash your umbrella.
Oh, and sometimes there are days like this (October 28, 2013):
Things to do in Amsterdam in October
Amsterdam is at its prettiest when the sun in shining, but the city is beautiful any time of the year, come sunshine or rain.
Keep your schedule as flexible as possible so you can take advantage of good weather for outside activities, while you visit museums at other times.
If and when it rains you'll likely want to pop into a pub for a coffee or a beer while you wait for the shower to end.
During this month the leaves on Amsterdam's trees change their green color to hues of yellow, orange and red. Have your camera ready (with a camera rain cover, perhaps).
More weather information
We also have details about Amsterdam weather in other months. That page also includes a current rain radar.
More Amsterdam Tourist Information
Last updated CET (Central European Time)
Hello!

Our original content is protected

by © Copyright DutchAmsterdam .nl
Do not republish or repost.