November weather in Amsterdam is often turbulent
DutchAmsterdam.nl — The weather in Amsterdam during the month of November is best characterized by the word 'turbulent.'

Then again, thus far this year (2022) we have seen notably calm, dry and mild autumn weather.
Estimated reading time: 6 minutes
In Amsterdam, November is the wettest month of the year, with an average of 73 mm (2.8 inch) of precipitation. It will also be quite windy.
In fact, the Dutch often refer to November as windy or dolmaand – windy or crazy
In fact, there are many days when a cold, drizzly rain is driven through the streets by gusts of wind up to 50 miles per hour
On the other hand, as is always the case with the weather in the Netherlands, you can have a pleasant, sunny day with temperatures of 20° C | 68° F or more — or, at the other extreme, a night of -10° C | 14° F and severe frost
Amsterdam, however, is beautiful at any time of year. Check out this relaxing video taken on a typical day in November (or jump straight to the current weather forecast)
Video: Amsterdam on a Chilly November Morning
A word to the wise: Yes, Amsterdam is a very walkable city. But given this month's weather, take note:
You will want to have a 1-7 days Public Transport Ticket — or, better yet, an I amsterdam City Card. The latter gives you public transport plus access to museums and other attractions.
Check the current forecast below, or jump right to What to Wear in Amsterdam in November.
— See the Weather Forecast below this ad —
Your time in Amsterdam is precious. Don't waste it standing in line. It's a good idea to buy tickets for museums, tours, public transport ahead of time.
Amsterdam Weather Forecast, November 2022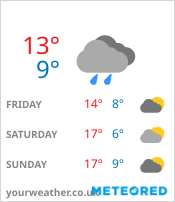 Updated November 25, 2022
As a service to our readers, we update this page with weather forecasts throughout the entire month of November.
During the rest of the year, you can see what you need to know about the climate in the city in November from the general information on this page.
The short version: the weather in Amsterdam in November is best described by the word "turbulent" Count on a lot of wind. It's also the rainiest month of the year.
Sunset this week: 16:35 (4:35 pm)

Saturday, November 26, 2022 — Overcast and/or cloudy all day. No rain. Highest temperature 10° C | 50° F around mid-afternoon.
Sunday, November 27, 2022 — Overcast all day. Scattered light rain showers – yes, intermittent rain – all day, all evening, and all night into the next day. A consistent temperature of 7° C | 44.6° F throughout the day.
Monday, November 28, 2022 — Intermittent rain showers from before daybreak until some time in the early afternoon. The early afternoon high of 9° C | 48.2° F is the warmest it gets today.
Tuesday, November 29, 2022 — Cloudy in the early morning, but sunny intervals (±55% sunshine) from about mid-morning until early evening. No rain. Early afternoon high tempereature 10° C | 50° F.
Wednesday, November 30, 2022 — Mostly cloudy and overcast, with the exception of sunny intervals (about 65% sunshine) in the late afternoon. No rain. Mid-afternoon high 8° C | 46.4° F.
Thursday, December 1, 2022 — Overcast from before daybreak until about mid-afternoon. No rain. Daytime high temperature not warmer than 3° C | 37.4° F — and a feels-like temperature of -2° C | 28.4° F.
Long Range Forecast
Thursday, November 24, 2022 — Thursday, December 1, 2022: There is a good chance (80%) of slightly changeable autumn weather with temperatures around or slightly above normal.
Normal Low and High Temperatures in November
1-10: 5.6/11.2° Celsius (42.08/52.16° Fahrenheit)
11-20: 4.1/9.3° Celsius (39.38/48.74° Fahrenheit)
21-31: 3/7.9° Celsius (37.4/46.22° Fahrenheit)
What to wear in Amsterdam in November
November is usually one of the wettest months in the Netherlands. So a raincoat or waterproof windbreaker is a must
Like pretty much all year round, the rain can be anything from a misty drizzle to a steady downpour.
An umbrella can come in handy, but only on days when it's not too windy – unless you have one of these windproof travel umbrellas.
Dress warmly enough to protect yourself from the cold. Remember that wind and rain can make temperatures seem lower than they actually are
So keep the wind chill factor in mind when deciding what to pack
Dress in multiple layers. Often the weather is milder than you would expect when looking out the window of your hotel room.

And if you are going to a warm cafe or restaurant, you should be able to take something off.
November Clothes Packing List
It normally does not get cold enough to warrant wearing gloves. And it does not snow in November.
Oh, are you all set for luggage?
Things to do in Amsterdam in November
This is the rainiest month of the year. And the windiest.
Keep your schedule as flexible as possible. Take advantage of good weather to explore the city on foot, or by taking a canal cruise.

Visit museums at other times.
If and when it rains do what Amsterdammers do: pop into a pub for a coffee or a beer while you wait for the shower to end.
During this month most trees drop their leaves. Keen photographers know this reveals the facades of houses along the canals. Have your camera ready (with a camera rain cover, perhaps).
More Amsterdam Tourist Information
Hello! Our original content is protected by © Copyright DutchAmsterdam .nl
Do not republish or repost.
GetYourGuide is our Trusted Ticket Partner
Why stand in line during your vacation? Beat the crowds by booking Amsterdam
Tours, Skip the Line Tickets, Museums, Excursions and Activities
online.
Your GetYourGuide Ticket Advantage:
Authorized Ticket Seller
Verified legal tour operators
Printed or Mobile Voucher Accepted
Skip-the-Line (if available)
Instant Confirmation
Easy Cancellation