Estimated reading time: 7 minutes
December weather in Amsterdam: usually cold; usually no snow
Skip directly to the current weather forecast
If you see any sunshine in Amsterdam during December, take a picture.

If you see any snow, take a picture as well. [It doesn't often snow this much, certainly not in December]

In this darkest month of the year the sun shows up only 40-45 hours. Expect at least half of the days to pass without significant sunshine. When the sun does shine, it is often combined with deep blue skies due to the crisp temperatures. This makes for awesome photos. An added bonus is that since most of the trees are bare, the architectural features of the historic canal houses are easier to see.

After all, in the Netherlands December is a winter month. The shortest day of the year – measured by the amount of daylight – falls on December 21, and then the winter season begins.
Amsterdam is a very "walkable" city. Still, it's not that small. Consider this: The city has 15 tram lines, 5 metro lines, 33 bus lines, and 10 ferry lines.

You will want to have a 1-7 days Public Transport Ticket — or, better yet, an I amsterdam City Card. The latter gives you public transport plus access to museums and other attractions.
Late sunrise and early sunset
Tourists from countries closer to the equator are often amazed at how short the days really are in Amsterdam in December: Sunrise is on average at 8:40 am and sunset at 4:30 pm.
For Amsterdammers who have a regular 9-5 job, going to work in the dark is no fun, especially not when it's raining or freezing.
Mind you, this is not the rainiest month, nor the coldest. But Amsterdam's weather in December does bring a fair amount of precipitation – mostly in the form of rain or wet snow.
— See the Weather Forecast below this ad —
Don't spend your Amsterdam Trip waiting in line
Amsterdam welcomes lots of visitors in December.

Your time in Amsterdam is precious. Don't waste it standing in line. It's a good idea to buy tickets for museums, tours, public transport ahead of time.
Amsterdam Weather Forecast, December 2022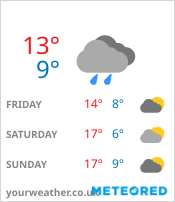 Updated December 28, 2022
We update this page with weather forecasts throughout December.
During the rest of the year see the general information on this page.
Note: Keep in mind that the feels-like temperature can be several degrees lower than those shown.
The short version: December is not the rainiest month in Amsterdam, nor the coldest. But you should expect a fair amount of precipitation — usually in the form of rain or wet snow.
Sunset this week: 16:33 (4:33 pm)

Wednesday, December 28, 2022 — Scattered light rain showers (60-90% chance) from before daybreak, throughout the day, and way past midnight. Afternoon and evening high 9° C | 48.2° F.
Thursday, December 29, 2022 — Scattered light rain showers (30% chance) for most of the day, with the exception of late afternoon and early evening. They may be some sunny intervals in the late morning, but don't hold your breath. Daytime high 9° C | 48.2° F.
Friday, December 30, 2022 — Cloudy all day, with a 50-60% chance of scattered light rain showers from late morning through early evening. Today's highest temperature, 10° C | 50° F, occurs in the evening.
Saturday, December 31, 2022 — Cloudy all day. Scattered rain showers (70-89% chance) from before daybreak until after midnight. Mostly light showers, but heavy in the early morning. Daytime high 13° C | 55.4° F.
Long Range Forecast
Check our January weather forecast.
Normal Low and High Temperatures in December
1-10: 2/6.8° Celsius (35.06/44.24° Fahrenheit)
11-20: 1.1/5.9° Celsius (33.98/43.62° Fahrenheit)
21-31: 1.1/5.5° Celsius (33.98/43.9° Fahrenheit)
Don't take previous years as a guide
As always, keep in mind that the weather in the Netherlands is notoriously unpredictable. Other than the general observations on this page, what happens in one year cannot be taken as a template for the next.

That said, in recent years the December months have been rather mild in temperature.

And though it rarely snows during this month, December 2017 will long be remembered for the December 10-11 snow storms that brought the city — and most of the country — to a standstill.

All in all Amsterdam saw 20 centimeter (7.87 inch) of snow. Schiphol Airport was forced to cancel 600 flights — 50% of a normal day's take-offs and landings. Train traffic between the airport, and in and out of Amsterdam Central Station, came to a standstill. Trams ran on a reduced schedule with lots of delays, while buses were grounded.

It made for wonderful photos and videos, though: See Amsterdam in the snow.
Snow: White Christmas in Amsterdam?
Measured over the whole country, on average this month some form of weather drops from the sky on 22 days, for a total of 72mm (2.8 inches). Still speaking in averages, 3 of those days will see hail, 5 wet snow and 6-10 days fog.

It may snow from time to time, but seldom a lot. And a white Christmas in Amsterdam is a rare occurrence.

That said, if you've followed our weather write-ups for a while, you know we always point out how unpredictable Dutch weather is.

When snow does fall — the good stuff, not the wet slurry — Amsterdam looks like this:
And in case you're wondering: the end of the month is 1 to 1.5 degrees colder than the beginning. We're gearing up for January.
What to wear in Amsterdam in December
December can be bone-chillingly cold, especially when it's windy.

You'll definitely want pack warm clothes, along with a winter-proof, waterproof coat or jacket.

A windproof hat or cap — especially one that keeps the ears warm — will be very welcome. You'll also want a scarf and gloves.

Bring sweaters and warm socks. Long underwear may come in handy as well.

That said, make sure you dress in layers. Pubs, restaurants and private homes can be quite warm.
Amsterdam weather facts: December
Temperatures
• Average lows: 0.5° C (33° F)
• Average highs: 5.5° C (42° F)
Sunrise & Sunset
• December 1 – 8:27 a.m. / 4:32 p.m.
• December 31 – 8:51 a.m. / 4:37 p.m.
Rainfall
• Average 72mm (2.8 inches) in 72 hours
Amsterdam Current Weather & Month-by-Month
More about the weather in Amsterdam, including current temperatures, expected precipitation, 4-day forecast and average rainfall figures. Also: the weather from month-to-month.
---
More Amsterdam Tourist Information
Most popular articles right now
[do_widget title=false class=has-medium-font-size id="top-posts-4″]
Hello! Our original content is protected by © Copyright DutchAmsterdam .nl
Do not republish or repost.
GetYourGuide is our Trusted Ticket Partner
Why stand in line during your vacation? Beat the crowds by booking Amsterdam
Tours, Skip the Line Tickets, Museums, Excursions and Activities
online.
Your GetYourGuide Ticket Advantage:
Authorized Ticket Seller
Verified legal tour operators
Printed or Mobile Voucher Accepted
Skip-the-Line (if available)
Instant Confirmation
Easy Cancellation