January in Amsterdam
Estimated reading time: 5 minutes
Amsterdam is beautiful any time of the year, and January is no exception — provided you dress for the occasion.
According to the Royal Netherlands Meteorological Institute 1 (KNMI), January is the coldest month in most of the Netherlands. Along the sea coast February is slightly colder yet, when the water of the North Sea is at its coldest.
Normal Amsterdam weather in January is like this: the average temperature is 2.7º Celsius (36.68º Fahrenheit). That's cold, especially when there's a stiff wind. It's a rainy month as well.
You can also expect anywhere from five to eight days of snow — which looks wonderful.
— See the Weather Forecast below this ad —
Don't spend your Amsterdam Trip waiting in line
The off season in Amsterdam includes the months of October and November, as well as January and February. During these months the city sees fewer tourists. Yet it remains surprisingly busy.

These are usually the gloomiest months of the year, often with bad weather and low temperatures. That means: not standing-in-line weather.

Your time in Amsterdam is precious. Don't waste it standing in line. It's a good idea to buy tickets for museums, tours, public transport ahead of time.
Amsterdam Weather Forecast, January 2024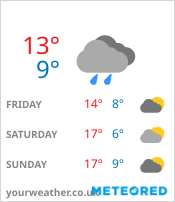 Will be updated in January
As a service to our readers we update this page with weather forecasts throughout the month of January.

During the rest of the year the general information on this page will tell you what you need to know about the city's climate in January.

The short version: Normally, January tends to be Amsterdam's coldest month. You can expect anything from gloomy days with (near) freezing temperatures to deep blue, cloudless skies with lots of sun.
Note: most days the feels-like temperature will be several degrees lower
This week: Sunrise: 8:34 (8:34 am) — Sunset: 17:09 (5:09 pm)
Long Range Forecast
(Will be updated in January)
Check our February weather forecast.
Normal High and Low Temperatures in January
1-10: 0.3/5.1° Celsius (32.54/41.18° Fahrenheit)
11-20: 0.9/5.7° Celsius (33.62/42.26° Fahrenheit)
21-31: 0.7/5.5° Celsius (33.26/41.9° Fahrenheit)
Sunshine – but not much
On average there are 50 hours of sunshine — spread out over the entire month.
That said, while you may see many gray and gloomy days, from time to time there will be several hours worth of blue, cloudless skies. When that happens grab the opportunity to take postcard-perfect photographs of Amsterdam's sunlit streets and canals.
Since the trees are bare, many canal-side façades that normally are somewhat hidden from view by the foliage are now more easy to see.
What to wear in Amsterdam in January
Warm clothes are a must, and you will want to wear a winter proof/waterproof coat or jacket.
A good, windproof hat is not a luxury and no one will look at you funny if you happen to be wearing earmuffs.
Complete you outfit with a warm scarf and gloves.
Don't forget warm socks and padded insoles.
As always, dress in layers because restaurants, café's and homes are well-heated.
That said, you may want to consider wearing long johns or thermal underwear. You'll thank us when you're waiting for a bus or tram in the biting cold.
Tip: case of snow or ice, road salt is spread on nearly all the streets — certainly at key points such as bridges and crossings. Protect your shoes with a waterproof spray. If you get salt spots anyway, they can be removed with a cloth and some vinegar.
Amsterdam weather facts for January
Temperatures
• Average lows: -0.5° C (31° F)
• Average highs: 4.4° C (40° F)
Sunrise & Sunset
• January 1 – 8:51 a.m. / 4:38 p.m.
• December 31 – 8:24 a.m. / 5:26 p.m.
Rainfall
• Average 72mm (2.8 inches) in 72 hours
The weather in other months
Would you rather visit us during another time of the year? Check the weather page roundup, which includes details about our climate during the other months of the year.
More Amsterdam Tourist Information
Notes:
Koninklijk Nederlands Meteorologisch Instituut, Royal Netherlands Meteorological Institute ↩
Last updated CET (Central European Time)
Hello!

Our original content is protected

by © Copyright DutchAmsterdam .nl
Do not republish or repost.