Amsterdam weather information in less than 5 minutes
What is the weather like in Amsterdam in February?
February is the coldest month throughout the Netherlands. But in Amsterdam, January is often just a bit colder than February. However, the difference is negligible.

The good news is that February is one of the driest months, right after April, which usually has the least amount of precipitation.

On average it can snow on 3 or 4 days, and freeze 4 to 6 days. Some years ice skating on the canals of Amsterdam is possible.

You can expect an average of 78 hours of sunshine in Amsterdam in February, compared to 51 in January and 42 in December. But do not make the mistake of thinking sunny days are warm. They are sunny and cold.

By the way, so far the winter of 2021/2022 has been quite mild. The exceptions were storm Dudley on February 16, and the heavier storm Eunice a day later.
Amsterdam Weather Forecast, February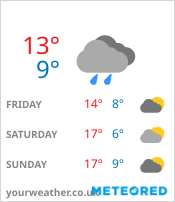 Next Update: February, 2023

We update this page with weather forecasts throughout February.
During the rest of the year see the general information on this page.
Note: Keep in mind that the feels-like temperature can be several degrees lower than those shown.
Long Term Amsterdam Forecast
Will be back in February, 2023.
Check our March weather information.
Normal High and Low Temperatures in February
1-10: 1/6° Celsius (33.8/42.8° Fahrenheit)
11-20: -2/5.4° Celsius (31.64/41.72° Fahrenheit)
21-31: 0.7/6.5° Celsius (33.26/43.7° Fahrenheit)
Ice skating on the canals of Amsterdam?
Normally, the average daily temperature in Amsterdam in February is 2.4º Celsius (36.32º Fahrenheit). But wind and fog (and yes, storms) can make it feel much colder.

Nights are very cold, with temperatures usually below freezing. However, that does not necessarily mean you can get your skates out from under the bed.
Ice skating the canals is not always possible, because Amsterdam weather in February is not consistent from year to year. The canals do not always freeze over, at least not long enough to making skating possible.

At the first sign of ice, Waternet (Amsterdam's water authority) closes off canals on the west side of the city: among others the Prinsengracht and the Keizersgracht between the Brouwersgracht and the Leidsegracht.

If moderate to severe night frost is forecast for more than five days, and it also freezes during the day, Waternet usually closes the rest of the canals in the city.
What to wear in Amsterdam in February
If you visit Amsterdam in February, bring warm clothing, including long-sleeved sweaters, sweatshirts and a winter-proof coat or jacket.
Thermal underwear (Amazon) is not a luxury. Neither are leggings, warm socks and padded insoles.
Dress in layers because coffee houses, coffee shops, restaurants, cafes, entertainment venues and apartments are cozy and warm. (And also gezellig, by the way)
If you want to travel light, you can buy a pair of earmuffs and knitted winter clothing (hats, scarves, gloves) in the city's ubiquitous souvenir stores. Cheap warm underwear can be found in any HEMA or Zeeman department shop. You can find a HEMA right inside Amsterdam Central Station. And you're never far away from a Zeeman.
What to do in Amsterdam in February
The trees are still bare, so you get a much better view of the gabled houses along the canal than in spring and summer. Take advantage of a sunny day to enjoy a canal tour. If you prefer to walk along the canals, walk on the shady side so you can photograph the sunny side.
When exploring the city, stay away from fast food places and warm up in a café or two instead. That's how the locals do it. And, for the love of coffee, stay away from Starbucks.
Amsterdam Weather Facts: February
Temperatures
• Average lows: -1° C (30.2° F)
• Average highs: 5.5° C (42° F)
Sunrise & Sunset
• February 1 – 8:22 a.m. / 5:27 p.m.
• February 28 – 7:31 a.m. / 6:17 p.m.
Rainfall
• Average 44mm (1.7 inches) in 72 hours
---
About this article
This weather information is provided by Amsterdam native Anton Hein, who is not a meteorologist, and who can not be blamed if your weather experience in Amsterdam is different from what he led you to believe.

Suffice it to say that he knows when to stay indoors with a freshly brewed cup of coffee, some jazz and soul on the radio, and a pot of chili on the stove.
See more of Amsterdam
Hello! Our original content is protected by © Copyright DutchAmsterdam .nl
Do not republish or repost.
GetYourGuide is our Trusted Ticket Partner
Why stand in line during your vacation? Beat the crowds by booking Amsterdam
Tours, Skip the Line Tickets, Museums, Excursions and Activities
online.
Your GetYourGuide Ticket Advantage:
Authorized Ticket Seller
Verified legal tour operators
Printed or Mobile Voucher Accepted
Skip-the-Line (if available)
Instant Confirmation
Easy Cancellation