May Weather in Amsterdam
The good news is that in the Netherlands, May is often the sunniest month of the year, with an average of up to 15 hours of sunshine per day.

However, there are also as many cool days as warm days in May.

There may even be some frost at night, especially in the first half of the month. However, this is usually the case only in rural areas far east of Amsterdam. Nevertheless, the feast days of the so-called Ice Saints — May 11-13 — are notorious for this.

Consider this: As is so often the case in the Netherlands, the weather forecast may announce sunshine for the rest of the country, while much of the west – Amsterdam included – is covered with clouds drifting in from the North Sea. Here's what you should pack for this kind of climate.
.
— See the Weather Forecast below this ad —
Amsterdam Weather Forecast, May 2023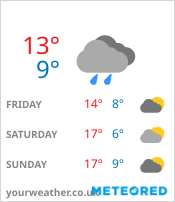 Updated May 29, 2023
As a service to our readers we update this page with weather forecasts throughout the month of May.

During the rest of the year the general information on this page will tell you what you need to know about the city's climate in May.

The short version: The good news for Amsterdam is that May often is the sunniest month of the year, with on average about 8 hours of sunshine a day. The bad news is that May weather is as fickle as Dutch weather can be.
This week: Sunrise: 5:27 (5:27 am) — Sunset: 21:48 (9:48 pm)
Monday, May 28, 2023 — Cloudy with some sun in the morning. Sunny intervals (with about 50% sunshine) in the afternoon and evening. No rain. Mid-afternoon high15° C | 59° F.
Tuesday, May 29, 2023 — Overcast all day. No rain. Mid-afternoon high 14° C | 57.2° F.
Wednesday, May 30, 2023 — Abundantly sunny, with just a few clouds in the afternoon. No rain. Mid-afternoon high temperature 20° C | 68° F.
Long Range Forecast
Check our June Amsterdam Weather Forecast.
Normal High and Low Temperatures in May
1-10: 7.3 / 15.9° Celsius (45.14/ 60.06° Fahrenheit)
11-20: 8.4/ 17.4° Celsius (47.1/ 63.3° Fahrenheit)
21-31: 9.2/ 18° Celsius (48.6/ 64.4° Fahrenheit)
What to Wear in Amsterdam in May
You have to consider the current weather forecast as described above, but normally you'd pack this:
Short-sleeved T-shirts or tops and summer skirts and dresses. For cooler evenings and sunny but cool days, however, you'll need something warmer. Sweatshirts or fine.
Jeans, light trousers or shorts for men.
Early mornings often look sunny, but can still be cold enough to wear a sweater or a light jacket — especially if it's windy.
After sunset, temperatures cool quickly.
You probably won't need an umbrella. If you do want to carry one, a small, collapsible model will suffice. But the showers are usually short enough to wait them out over a meal or drink at a brown café, a coffee house or coffee shop, or a deli.
Things to Do in Amsterdam in May
Normally during the month of May lots of tourists visit Amsterdam. You'll want to book skip-the-ticket-line tickets, museums, excursions, and activities ahead of time. Not just to assure availability, but also because you don't want to waste your precious vacation time standing in line.

Note: You have until May 14 to see the millions of tulips and other flowers at Keukenhof.
Get your
Amsterdam tickets
from
GetYourGuide
— our trusted ticket partner.
Your GetYourGuide Ticket Advantage:
Authorized Ticket Seller
Verified legal tour operators
Printed or Mobile Voucher OK
Skip-the-Line (if available)
Instant Confirmation
Easy Cancellation
Amsterdam Tips for May
Sunny days are perfect for taking postcard-quality photos — especially now that the trees are in leaf. You can take beautiful pictures along the canals (particularly from bridges)
Grey and rainy days make for great dramatic pictures, particularly if you shoot in black & white (or later convert your color photos to B&W)
When the weather is good, do like the Amsterdammers do, and relax at an outdoor café. It's perfect for people-watching
If it's rainy, plan to visit some of Amsterdam's 50+ museums
A bad weather day is also perfect for a visit to the cinema 1. We highly recommend a visit to the unique EYE Film Institute, or to Tuschinski — the most beautiful cinema in the world.
May is the Sunniest Month, But…
On sunny days you can expect up to 10 hours of sunshine, though on average we'll see about 8 hours of sunshine a day. It helps that in this part of the world in May sunset occurs at about 10 past 9 at the start of the month — and shortly before 10 pm at the end of the month.
Where Our Weather Information Comes From
Our weather information is based on long-term averages as reported by various meteorological services, including the Royal Netherlands Meteorological Institute (KNMI).
What to See and Do in Amsterdam
Notes:
In the Netherlands, most movies on TV and in the cinema are shown in their original language, with Dutch subtitles. ↩
Last updated CET (Central European Time)
Hello!

Our original content is protected

by © Copyright DutchAmsterdam .nl
Do not republish or repost.